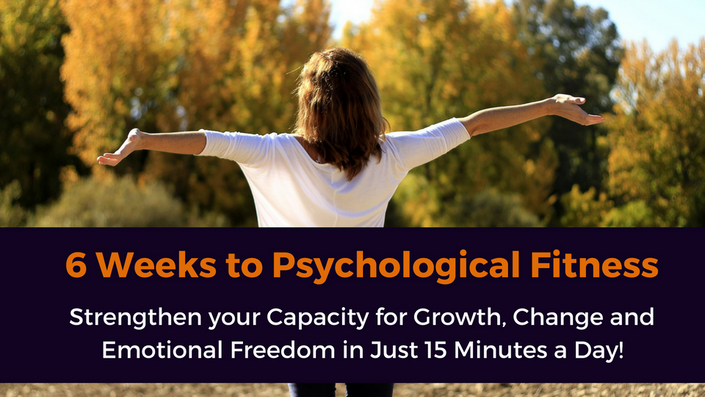 6 Weeks to Psychological Fitness™
Giving you the mental strength, endurance and flexibility to thrive in this challenging world!
6 Weeks to Psychological Fitness™ teaches you the 5 key practices to thriving in our challenging world!


---
Program Benefits
These 5 key practices unlock your capacity to
manage stress, and even thrive through stress,
experience improved wellness and well-being,
roll with life's punches,
gain confidence,
build grit and resilience,
conquer self-criticism,
experience the power of emotional freedom,
neutralize negativity,
harness your willpower,
change your habits,
sharpen your focus,
tap into creativity,
and more - all in just minutes a day!
What's more, these same practices improve bottom-line benchmarks like health, productivity, relationships, performance and everyone's true ultimate goal - happiness and fulfillment!

Here's How it Works

Science has proven that we're capable of changing ourselves at the cellular level, and this program is designed to tap into that astonishing capacity.
I hand-selected behavioral science's most effective strategies and adapted them into simple exercises - mostly involving specific methods of breathing and reflection - and I show you EXACTLY how to practice them to strengthen and even transform yourself at the neurobiological level. That means the changes you make can get wired right into your brain.
Just follow my directions as I lead you in practical, but proven, breathing, thinking and reflection exercises, and get psychologically fit!
---
Here's What You Get
This program includes 6-weeks of daily video "workouts" you can stream from any device. Each class is only about 15 minutes – so you can build your psychological fitness quickly and easily.
When you enroll you instantly get access to the full program, which consists of a brand new video each day.

Week 1
You'll begin with sensible self-care and basic self-regulation exercises, focusing on restoring healthful breathing patterns and balancing your autonomic nervous system; that's your body's inner control center. You'll learn to manage stress and also how to put yourself in the calm but energized state where you're optimized for peak performance.
Week 1 lays the groundwork for profound change.
Week 2
This week, you'll build on that groundwork with an introduction to functional mindfulness. I've adapted traditional mindfulness exercises and highlighted the proven benefits of this ancient practice in a manner that's practical for our modern lives.
You'll also discover a simple, strategic positivity practice to help you overcome your biological but no longer useful predisposition to negativity.
Week 3
This week I'll help you unlock your capacity for mental, emotional and behavioral freedom by taking your functional mindfulness practice to the next level, where you'll begin to work with your thoughts and emotions.
Many people avoid coming face to face with their own minds, but this week you'll learn how to "take yourself on".
Week 4
I'll show you exercises that strengthen your capacity to be the director of your own inner experience. I'll also be integrating some more extended teaching segments this week with our practices so you'll get the most understanding of the work we're doing together.
Too many people miss out on the profound benefits of these simple practices because they don't realize their value; this week I'll share some of the findings that compelled me to commit to these practices for life.
Week 5
I'll continue to combine brief lectures with functional exercises as we get into more advanced applications of mindfulness and visualization, also beginning to discuss habits, cravings, willpower and the biological importance of compassion.
Week 6
By now, you'll be comfortable with the ways to work out for psychological fitness through sensible self-care, restorative breathing, functional mindfulness, strategic positivity and heart-strengthening compassion exercises.
I'll conclude this program with exercises to help you put it all together. And I'll share some ideas for maintenance and continued growth.
Bonus Extras
As part of this program, you'll also get access to a set of bonus maintenance practices you can use once you complete this program so the rewards will not only be sustainable – you'll continue to grow, thrive and flourish!
---
Everything begins in your head.
Everything you want to accomplish and everything you need to deal with - it all begins in your head. This program gets your head in the right shape to overcome challenges, perform your best, and become the person you want to be.
I'll be honest with you; you're probably not going to be transformed overnight. That's now how it works with any kind of fitness. But just like the first step in running a marathon is taking a walk around the block, you will get psychologically fit when you integrate these simple practices into your daily routine, and your life will improve in important and obvious ways, and also in small and surprising ways.

There is one change you may experience immediately, and it is profoundly important. As soon as you commit to building your psychological fitness, you have taken control of yourself and your life. That knowledge alone has been shown to increase confidence, determination, and resilience - and it feels amazing!
---
Why do I call it "Psychological Fitness"?
Physical fitness gives you the strength to carry heavy loads, the endurance to run long distances and the flexibility to avoid injury. I developed Psychological Fitness Training™ to give you the inner strength to handle life's hardships, the mental endurance to pursue your goals, and the emotional flexibility to cope with changes and challenges.

And, even though psychological fitness doesn't make you ripped or lean like physical fitness, the changes you make when you strengthen yourself from the inside out won't be invisible. You may find that you walk taller and prouder, come off calmer, healthier and happier, and give off a more positive energy that's very attractive.
---
Why is Psychological Fitness so important?
The scary truth is that stress, anxiety, depression, sleep problems, or "lifestyle illnesses" including high blood pressure and diabetes plague a majority of us, and the tools and skills we need to prevent or fix these problems elude most of us. Life today is way more stressful than it was a generation ago, and unless you're in the right psychological condition, you won't perform well, you'll have real trouble making sustainable changes and achieving your goals, and you probably won't fully enjoy your life. I often say that trying to make changes in your life or achieve your goals without a foundation of psychological fitness is like planting seeds on concrete.
On the other hand, the good news is that the same tools and strategies we can use to overcome our challenges can also help us achieve our goals, enjoy our lives, perform our best and thrive. These are the tools and strategies you learn to practice with Psychological Fitness Training™. And the best news of all is that they're all skills that are easy to learn and within your reach!
So the bottom line is that if you want to change yourself, your life, or the world, if you're not fulfilling your potential at work or at home, if you've been stressed, stuck or stagnating, or if you simply feel unfulfilled even though your life looks great "on paper", building your psychological fitness is important!
---
So is This Program for You?
Could you use more confidence, better focus, or more willpower?
Would you like to bounce back from set-backs more easily, and handle life's challenges with less struggle?
Do you want to stop avoiding the scary stuff that always seems to get between you and your goals?
Would you like to have tools to help you manage troublesome thoughts and emotions?
Do you want to stop sweating the small stuff?
Do you suffer from stress related physical or emotional problems or do you have trouble sleeping?
Do you sometimes feel like you're living on autopilot - like your life is passing by without you?
Do you want to experience more joy and happiness, and to learn how to appreciate the little things?
Have you been disappointed in yourself for repeating old patterns and reacting in unhelpful ways, and would you like the freedom to make new and more effective choices?
Are you curious about breathwork, mindfulness, positivity, or compassion but don't know how to integrate these proven and powerful practices into your life in a meaningful and sustainable way?
If your answer was yes to any of these questions, then yes, this program is for you.
---
The Bottom Line

I'm offering you 42 classes (actually, 49 when you include the bonuses), designed to be meaningful and manageable, to begin your journey toward psychological fitness. You'll learn strategies to manage stress, create a daily mindfulness practice, work with the "scary" stuff like thoughts and emotions, to become more positive, and to experience the surprising but scientifically supported rewards of compassion.
If you want to get a taste of what this course is like, scroll down to the bottom of this page where you'll find a detailed program syllabus. You can watch Lesson 1 - the program introduction - for Free!
Testimonials
"I have to say that I have always been reticent to try anything that involves any amount of quiet reflection. My thoughts have always been my enemies and saboteurs. I am pleasantly surprised that, after only a few sessions of the training, I have been much more comfortable with being in a quiet space. Not that I look forward to them, mind you, but I am not so full of dread when the TV is off. I have also found that any anxiety I feel has been more fleeting and much more manageable. I am only half-way through the program at this point and am really enjoying my time with Michelle. She is a real person who talks in real life terms. I feel like she is talking to me as opposed to performing for me. Thank you!" Jacque McGinn, Delmar, New York
"People stand to benefit a lot if they take the time to listen and try out your suggestions. What a wonderful sharing of tools to help people flourish more in their life." Selena Balick CPCC Delmar, NY

"Michelle provides a well thought out sequence of information and practices which build upon each other beautifully. Each segment has an immediately practical and useful application. With clarity, gentleness and buoyancy, Michelle Marks and her Bootcamp help move participants towards learning, understanding and applying new skills. Specifically in regards to how awareness and care of one's own biology can help establish empowering skills towards learning how to become and remain sensitive to and accountable for regulating ones own physical and emotional well-being.... As a Biodynamic Craniosacral Therapist, a body worker and a person who has been practicing meditation and who has also been in therapy for over 26 years, I am particularly enthused about how this program encourages understanding about and awareness of how the central nervous system works. These are personally empowering explorations." Genet, Adirondacks, New York
Your Instructor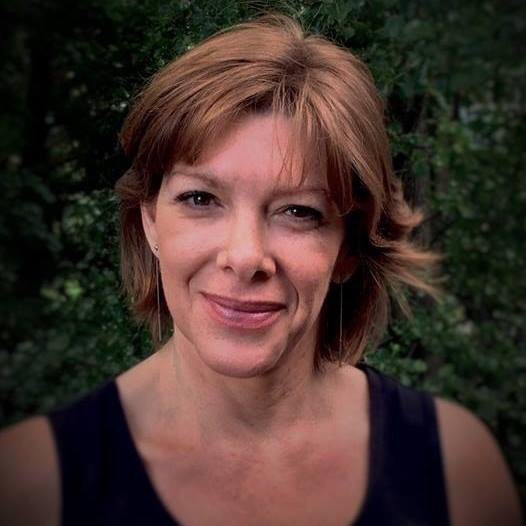 Dr. Michelle Marks earned her Ph.D. in Clinical and School Psychology at Hofstra University in 1992. She completed a clinical internship in Rational-Emotive Behavior Therapy at the Albert Ellis Institute under Dr. Ellis, received training in Mind/Body Medicine at Harvard Medical School with Herbert Benson, and has completed certification courses in clinical hypnotherapy, biofeedback, energy psychology and life coaching. She has been on the faculties of Hofstra University and Mount Sinai School of Medicine; and received national recognition from the Social Security Administration for outstanding leadership and innovation in the areas of medical training, consultation, and mentoring for the New York State Division of Disability Determinations. Dr. Marks is also a Vanguard I graduate of former American Psychological Association president Martin EP Seligman's Authentic Happiness Coaching program and has been involved in positive psychology since the inception of the field. She has been a wellness columnist, consulted with spas, appeared as a lifestyle expert on local news stations and is the author of A Smorgasbord of Weight Control Tips . More recently, Dr. Marks turned her attention to online training and is happy to share her Teachable courses with you. In her free time, Michelle enjoys nature, travel and enjoying good food and good music.
Frequently Asked Questions
When does the course start and finish?
The course starts now and never ends! It is a completely self-paced online course - you decide when you start and when you finish.
How long do I have access to the course?
How does lifetime access sound? After enrolling, you have unlimited access to this course for as long as you like - across any and all devices you own.
What if I am unhappy with the course?
I would never want you to be unhappy! If you are unsatisfied with your purchase, contact me in the first 30 days and I will give you a full refund.
Important Note: This is an educational website. This training program does not substitute for therapy, counseling or treatment for any condition. If you are experiencing a psychiatric condition, significant emotional distress, or if you are under the care of a mental health professional, please do not participate in my training programs without consulting with that professional first.